The Best Oil for Dewy, Youthful, Non-Congested Skin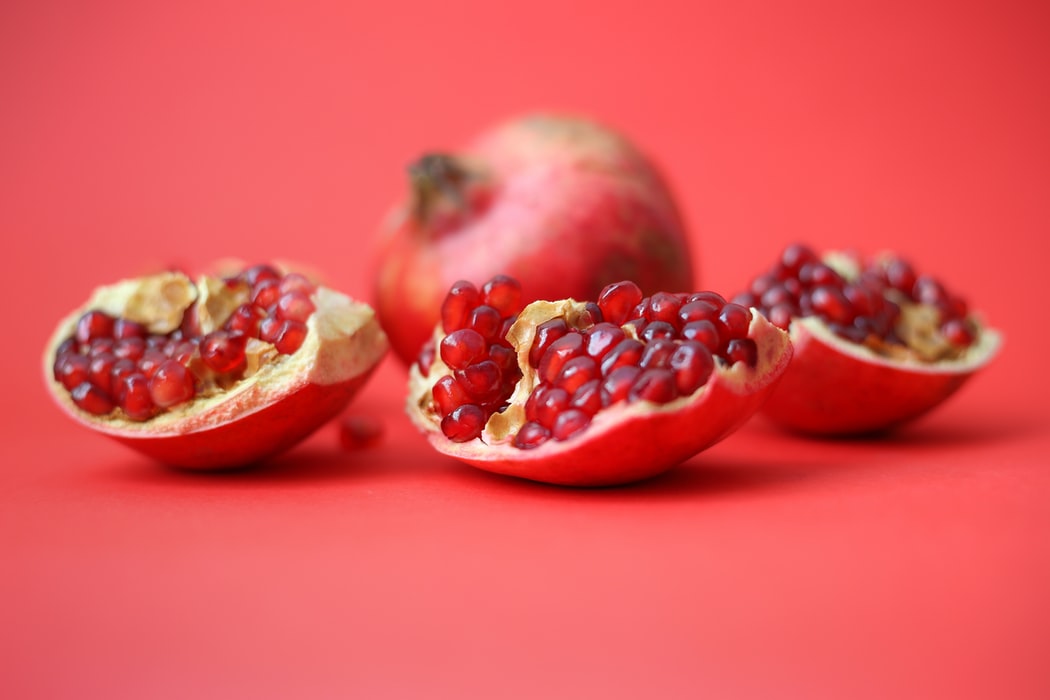 If you've been here for a while, then you'll know that this oil is a crowd favorite.
Pomegranate Seed Oil was actually chosen for our Persephone series of skincare products because it's one of the few oils that has the ability to provide a dewy, radiant glow without being clogging or heavy on the skin.
In addition, it's one of the few acne and oily skin friendly plant oils that absorbs slowly, allowing for long term, locked in moisture throughout the day. Our testing during the formulation stage of our Persephone series revealed an incredibly thick and luxurious oil that smells deliciously fruity, and has a wealth of benefits, antioxidants, and perks that make it worth every penny.
Antioxidant Powerhouse
Pomegranates alone contain 48% of your daily Vitamin C needs, and even contain incredibly strong antioxidants such as punicic acid, tannins, ellagic acid, and anthocyanins that all work together to support the immune system, promote healthy blood circulation, control bad cholesterol and keep arteries clear, and reduce the risk of heart disease, heart attack and stroke, and the risk of certain cancers.
With a fruit this powerful and beneficial for your body, it's a no-brainer that this oil would be perfect for skincare applications.
Pomegranate Seed Oil can help with the protection of the outer layer of the skin, as well as helping with skin cell regeneration in both the inner and outer layers of the skin. This is due to an increased amount of circulation and healing within the skin that aid in tissue repair and wound healing that these antioxidants provide the skin.
Oh, and remember the punicic acid mentioned above? This omega 5 fatty acid is the main fatty acid within Pomegranate Seed Oil, accounting for nearly 70% of the oil's chemical composition. The best part is that this acid reduces skin inflammation and aids in skin repair, which makes it even sweeter that this oil is non-comedogenic—or, non-clogging—for the skin.
Anti-Aging and Skin Detoxing Benefits
Pomegranate Seed Oil contains several components that have the ability to protect against UVB-induced oxidative stress and markers of photoaging, making it incredibly useful for anti-aging skincare products meant to both turn back time on your skin and also meant to provide protection for long term results.
And lets not forget the high levels of Vitamin C mentioned before, which not only benefit your body, but can also benefit your skin by providing natural antimicrobials which can help to fight bacteria and fungus in your skin, meaning that Pomegranate Seed Oil usage could prove to be helpful for those dealing with P. acnes bacteria.
For anti-aging however, this news is especially vital, since reports have indicated that Vitamin C levels are lower in aged or photodamaged skin. Keep in mind, Pomegranate Seed Oil and its myriad of antioxidants won't solely protect you from the sun, it definitely provides a healing and nourishing antidote for sun-aged and damaged skin (so be sure to wear your sunscreen while using Pomegranate Seed Oil to maximize its benefits long term!).
How to Add Pomegranate Seed Oil into Your Ritual
Pomegranate Seed Oil is a perfect match for every part of your skin and body routines! Try serums, body butters, facial moisturizers, lotions, or even face masks containing this incredible oil. Whether you're looking for an anti-aging powerhouse, or a lusciously moisturizing friend, Pomegranate Seed Oil can show up for any application! Here's how we like to use this oil currently:
If your skin has ever needed a boost of balance and hydration without the clogging downsides of heavy moisturizers, then meet Persephone, our Balancing Jelly that has the ability to moisturize and tone your skin without weighing you down. With Pomegranate Seed Oil working in tandem with Hazelnut Oil and White Willow Bark Extract, along with calming Allantoin and Panthenol, your skin will be balanced and soothed with a dewy, lightweight finish.
For skin that needs to be rescued, we have the antidote! This Persephone Balancing Elixir is fantastic for acne-prone, dull, dry, and even oily skin. Containing Pomegranate Seed Oil, Tamanu Oil, and even Thyme and Spearmint Oils, this Elixir works hard to balance your skin and provide ample hydration without any clogging or irritation.
---