Erasing Scarring Formed Years Ago & Toning Oily/Acne-Prone Skin Easily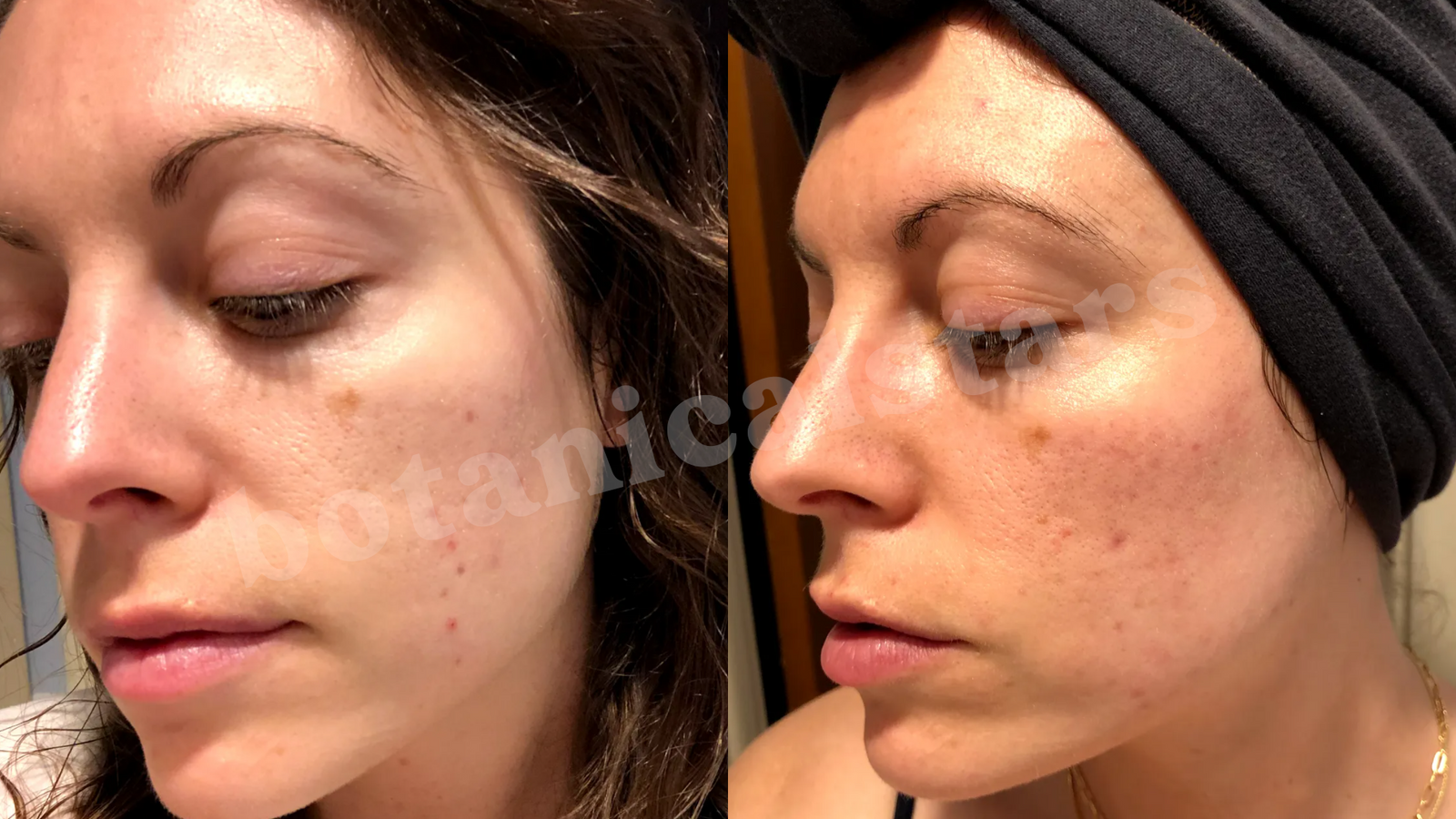 "I feel like I look in the mirror and think 'wow my skin looks incredible!'"
Lauren M. reported this to me after trying out the incredible Universe Healing Elixir herself ever since it was released a few months ago! This news is especially exciting, and her results are even more exciting! Read below to find out how her skin got a drastic makeover, and how she adores her skin more and more with each passing day.
Already ready to create your own customized healing kit like Lauren M? Click down below to secure yours!
Meet Lauren M's Skin!
This is how Lauren M's skin looked right before she tried out the Universe Healing Elixir in combination with the Persephone Hydrating Jelly! She has always struggled with acne and acne scarring primarily due to picking at the acne she got on her cheeks which led to deep scarring.
She took a chance and bought the Universe Healing Elixir when it was first released in the early summer of 2020, and now, in November, would love to share her results with all of the lovely stars!
Here's what she had to expect with the regimen that she picked out for herself:
Universe Healing Elixir
Persephone Hydrating Jelly

Extreme skin healing with Bisabolol and the high Vitamin E amount found in Prickly Pear Oil
Dewy, bouncy, radiant, plump skin with our High Molecular Weight Hyaluronic Acid
Extra-soothed skin with Panthenol (Vitamin B5), Allantoin, Licorice Root Extract, and Chamomile
An improvement in the look of textured and roughened skin
A reduction in skin congestion with Niacinamide (Vitamin B3)
The diminishing of fine lines, uneven skintone, and discoloration

Dewy, nourished skin with Pomegranate Seed Oil
Toned and cleansed pores with Ginger water, Ginger extract, and Hemp Seed Oil
Non-clogging hydration with Hazelnut Oil
A natural, irritation-free salicylic acid alternative with Willow Bark
Irritation soothing Licorice Root Extract
When it comes to our products, you only need a pea sized amount with each product, due to the high concentration of moisturizing and healing ingredients that we put into each formulation.
This is even more important with our Universe Serum, simply because of the Niacinamide component. If you apply large amounts of this product to the skin, or if you apply onto dry skin, you may experience pilling. This is when it seems like the product is flaking off of your skin as it isn't properly being absorbed by your skin. When using only a pea sized amount onto wet skin, you'll find that the product readily sinks deep into the skin and manages to play nice with other skincare products and even makeup!
Lauren M's Skin Now!
By pairing the Universe Healing Elixir and the Persephone Hydrating Jelly together, Lauren M was able to radically transform her skin to erase even the deepest of hyperpigmentation that she was suffering from! In addition, she even had this to say:
I feel like I look in the mirror and think "wow my skin looks incredible!" Which is something I haven't said about my skin in a very long time. I've tried everything to help the scars and acne and the Persephone cream and universe serum have been complete game changers.
The best part? She didn't experience irritation, sensitization, or even redness from using an exfoliating product. Instead, she was able to gently ease her hyperpigmentation, oily and acne prone skin, sunspots, wrinkles, dullness and hormonal acne with the addition of her skin being hydrated and balanced by the Persephone Hydrating Jelly.
These results and more can be achieved with our customizable healing kit (which is perfect for all skin types!) Shop below or shop our entire catalog for more!
---