Clearing Persistent Hormonal Acne and Scarring With One Gentle Product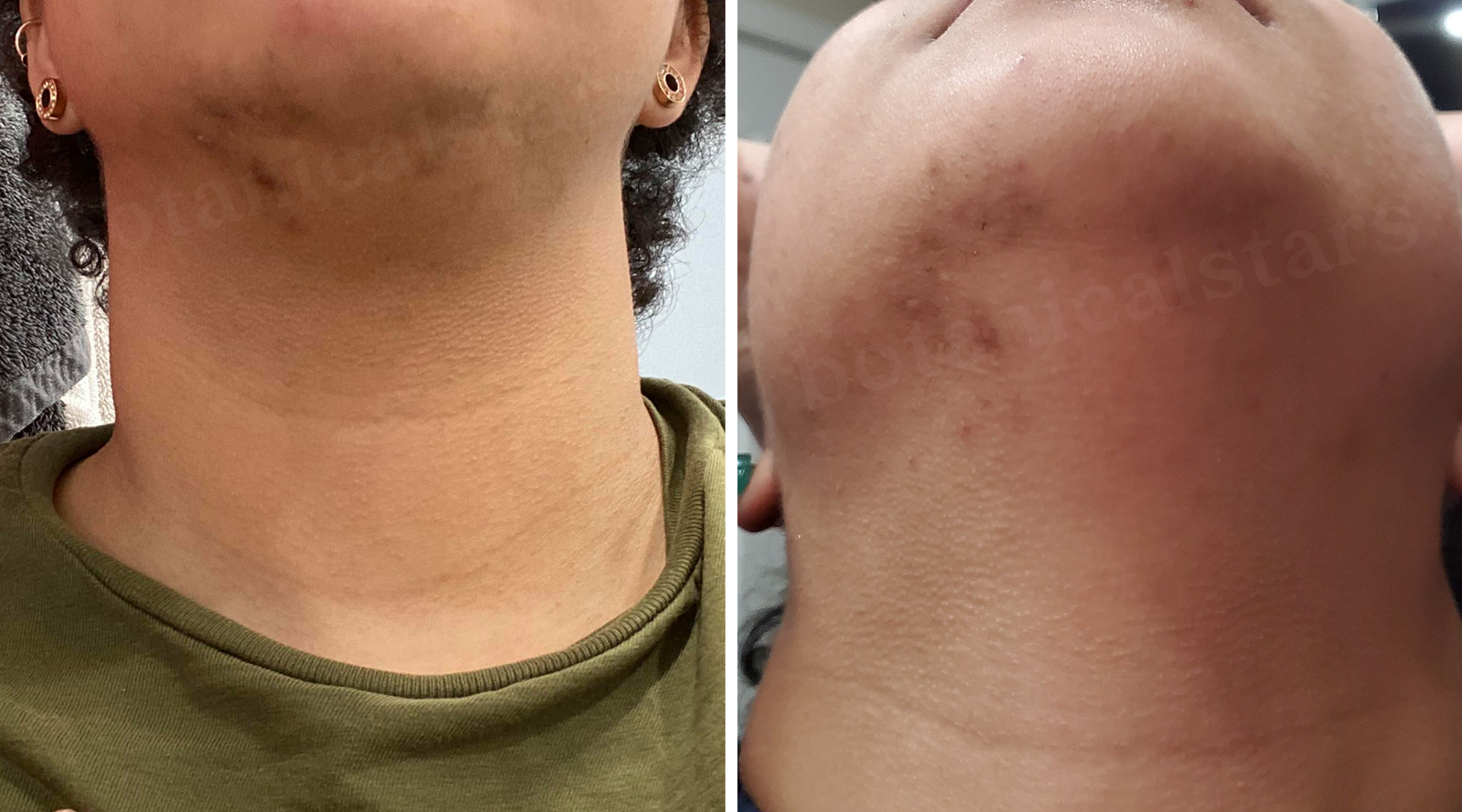 Clearing up hyperpigmentation and scarring doesn't have to be an aggressive, vengeful process. You can clear your skin gently and progressively with one singular feel-good product that is formulated to be a super concentrated, gentle, and effective product that has incredibly strong healing capabilities.
From the anti-inflammatory nature of luxurious ingredients like Prickly Pear Oil, Chamomile, Bisabolol, to the healing and refining powers of Helichrysum, Licorice Root, Niacinamide, and Panthenol, to the plumping abilities of Hyaluronic Acid, your skin can be refreshed to baby-soft newness with one singular product.
Yes, we also mean your super old hyperpigmentation that might make you feel like clear skin is impossible. It is possible, just read on to learn if our Universe Super Star Serum is a perfect match for you:
Already Ready to Make the Switch to Gentle, Highly Effective Exfoliating Products for Plumper, Healthier, Clear Skin?
Meet Alida M's Skin
This is what Alida M's skin looked like before she expressed her interest in testing out the Universe Super Star Serum, a product that was three months in the making at the time. She expressed to me that she suffers with stubborn skin that never seems to stay happy for long periods of time, even with products that seem like holy grail's at first, and also long-standing hyperpigmentation mainly from intense hormonal acne.
It was in areas like these, such as the neck and around the chin (which are two areas that are typically susceptible to hormonal acne), where she suffers awful acne each month that doesn't seem to get better even as she gets older. This is where I knew, as a formulator, that simply prescribing her Persephone wouldn't be enough, and I knew that the Universe Super Star Serum would be a perfect fit for her regimen.
Here are the skin-wins that I explained that shes could look forward to as a tester for this magical, super-concentrated, super-healing, luxurious upcoming product:
Universe - Super Star Serum
Extreme skin healing with Helichrysum, Bisabolol, and the high Vitamin E amount found in Prickly Pear Oil
Dewy, bouncy, radiant, plump skin with our High Molecular Weight Hyaluronic Acid
Extra-soothed skin with Panthenol (Vitamin B5), Allantoin, Licorice Root Extract, and Chamomile
An improvement in the look of textured and roughened skin
A reduction in skin congestion with Niacinamide (Vitamin B3)
The diminishing of fine lines, uneven skintone, and discoloration
Upon hearing all of the results that she could have with persistent usage of this gentle product, she knew that she had to try it out (and yes, she ultimately went on to buy her own which goes to show how much she fell in love with it!) and see how the product would do on her skin. What ended up happening shocked the both of us.
I sent her a sample of the Super Star Serum, along with a Persephone Moisturizer to fully round out her routine, and once she received her product I instructed her on how to properly use Botanical Stars products. When it comes to our products, you only need a pea sized amount with each product, due to the high concentration of moisturizing and healing ingredients that we put into each formulation.
This is even more important with our Universe Serum, simply because of the Niacinamide component. If you apply large amounts of this product to the skin, or if you apply onto dry skin, you may experience pilling. This is when it seems like the product is flaking off of your skin as it isn't properly being absorbed by your skin. When using only a pea sized amount onto wet skin, you'll find that the product readily sinks deep into the skin and manages to play nice with other skincare products and even makeup!
After she understood how to properly use the product, I left her to have fun with it and let her try it out for the next 7 days.
Alida M's Skin 7 Days Later
Even with the extremely gentle nature of this product, we saw an incredible and exciting turnaround at the 7 day mark! This frustrating hyperpigmentation that she had been experiencing for so long was clearing up effortlessly, and to make it even better, it was being done without irritation and sensitization.
We'll revisit her at the 30-day mark with updates on her hyperpigmentation, but until then be sure to shop the Universe Super Star Serum now while it's on Early-Bird VIP Pre-Order!
---
---